Art is not just a mere form of expression; it's a powerful tool that has been driving social change for centuries. From stirring emotions to inspiring action, art has the ability to shift perspectives and transform societies.
It's no wonder that throughout history, art has served as a medium for delivering revolutionary messages and challenging the status quo. And in today's ever-changing political and social climates, art remains a vital force that continues to inspire and motivate.
Glass is one of the unique artistic mediums that has gained traction over the years for holding the potential to ignite social transformation. Even though it is mainly associated with decorative purposes, various artists have employed glass art to help political narratives and promote social change. In this article, I will shed some light on the quality of the particular art form for novice visionaries/artists. I will discuss my own politically charged pieces and exhibitions to aptly present this potential of glass art.
Social and political messages have been conveyed through glass art more and more in recent years. Figurative sculptures and abstract installations are both the primary forms of political glass art. These forms allow the artists to address various urgent and vital issues.
Through my exhibition, On Solid Water, I aimed to highlight the absurd times that we live in as a society, full of paradoxes and contradictions. With urgent matters like refugee crises, inequality, and poverty on the rise, the world still seems to put an oblivious front, completely ignoring the extremity of the situation. Instead, on the same level, if not more, we are bombarded with new flashes and images of insubstantial and novel events in pop culture.
This exhibition presents that hot-potch through different and disconnected figures of Mickey Mouse, Rodanna (a hybrid between Ronald McDonald and the Madonna from Michelangelo's Pieta), a drowned refugee, and a terrorist. This jumble of historical, religious, and contemporary references symbolizes the lacking firm ground and fundamental uncertainty that prevails in modern times.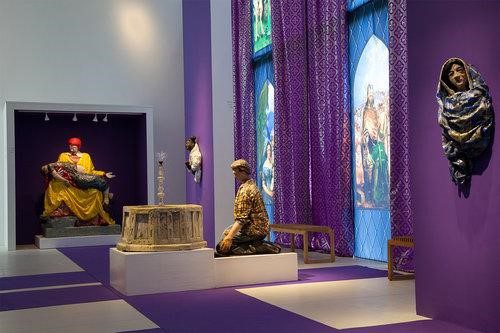 On Solid Water. Exhibition at Glasmuseet Ebeltoft. Photo courtesy of the artist.
Furthermore, through the medium of glass art in this exhibition, I have presented a satirical and ironic picture of the lethargic apathy that clouds the vision of society. The work intends to pose an ethical question of where we are heading collectively with no condemnation or reflection and only accepting whatever information is provided as a part of ultimate reality.
Glass is a canvas that can be molded according to the artist's vision. It can be used to create pieces that are a reflection of the artist's ideological standing. That can be easily carried out through sculptures and figures that can convey political messages through severe or satirical representations.
In that line of sight, when I had to create a piece of glass art in accordance with the theme of the circus, I presented it as an allegorical representation of the political climate in America. The piece, Don't Just Fly, Sore, is a circus elephant dressed in the color palette of reds, blues, and whites, depicted to be balancing on a circus ball. However, what is to be noted is that the circus elephant is showing no tricks but rather putting up a facade and is actually being held up by a 'white' pedestal.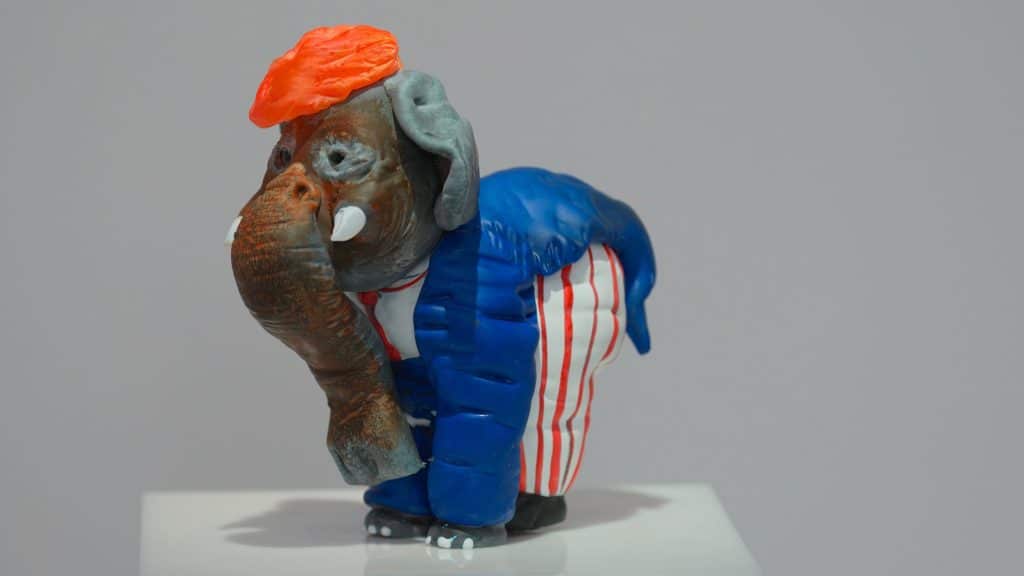 Don't Just Fly, Sore. 2022. For the Under the Big Top Challenge, Blown Away Season 3.
This kind of tongue-in-the-cheek take on political issues can be presented as a piece of art as the medium that I work with provides the room to be shaped in ways that align with my ideas. Glass is a versatile material for creating art ranging from tiny figurines to massive sculptures. It is a perfect medium to express complex ideas because it enables artists to work in various sizes and styles.
With social and political issues being at the forefront of public debate in today's world, this evolving art form can bring innovation where political expression is concerned. Glass artists have the capacity to uniquely capture the essence of a particular issue and translate it into visual art, striking a deep chord with people.
By playing with fire, glass artists personify the struggle and the need for social change. Their work can interact with light in multiple ways, creating more room for interpretation from the audience. Glass art has the capacity to closely manifest the ideologies of the masses as it is deemed highly interactive.
Playing with fire, working in the studio on a new sculpture. Photo: Marta Byrdziak.
At the end of the day, art is not just about creating pretty things to admire. It's a powerful tool for expressing complex ideas and igniting social change.
My passion for glass art stems from a desire to expose the contradictions and injustices that plague our society and to challenge people to think beyond surface-level beauty and entertainment. With every piece I create, I hope to inspire critical reflection and spark conversations about the issues that matter most.